Faith in Play Volume I
A Christian look at leisure
Mark Joseph Young
ISBN 978-1989940563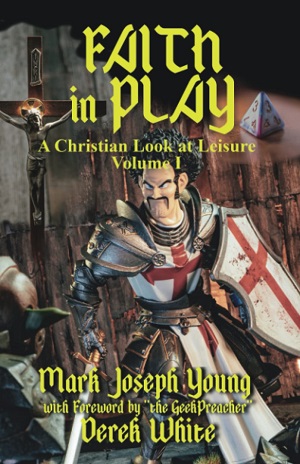 At the beginning of the century I began, as an expansion of my ministry as Chaplain of the Christian Gamers Guild, writing a monthly series entitled Faith and Gaming, about the intersection of role playing and hobby games with Christian faith. It ran for four years, and then was released in book form--twice--and then re-released by the Christian Gamers Guild in the mid teens. At that point, webmaster Bryan Ray prevailed upon me to write more on the subject, and although I had some doubts about what I could write on a subject on which I had already penned half a hundred articles, this series was born.
As it reached five years and sixty monthly entries, Dimensionfold Publishing put the series, with a few related articles, into this book. With a foreword by "Geek Preacher" Derek White, the articles go beyond issues of faith in role playing games to talk about our leisure activities beyond that, including television shows, books, society, holiday celebrations, and our relationships with others. It has outlasted the original series which inspired it, and is still going toward a future second volume, but this compilation contains much that is worth reading, worth reading again, and worth having on the shelf.
This book is available through Amazon in paperback and Kindle.
Books by Author M. Joseph Young