Dimensionfold Publishing is excited to present
Do You Trust Me?
The Essential Guide to Faith
A decade ago,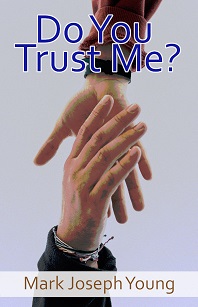 author M. Joseph Young announced the imminent publication of a book that explained faith in a way most believers had failed to grasp. Yet efforts to make it widely available were derailed, and very few actually saw the book.
Now Dimensionfold Publishing has released a new edition in printed and Kindle formats, by Mark Joseph Young. Young, Chaplain of the international and interdenominational Christian Gamers Guild whose previous books include the comprehensive guide to apologetics for intelligent readers Why I Believe and the popular book on Christianity and leisure activities Faith and Gaming, is excited to see this important explanation of what faith is and how it works in our lives made available to a wider audience.
Dave Mattingly of the Christian Gamers Guild wrote:
Do You Trust Me discusses how God's plan was always for man to be saved by Faith rather than Works, even before the Fall; how God's message was not changed from the Old to the New Testaments, it was merely clarified. I've already found myself referring to the book several times in the last three weeks since I've read it, at church, at home, at Bible study....There is a lot of good material in there, and I recommend the book to anyone wanting to know more about God's plan for their lives.
Your contribution via
Patreon
or
PayPal Me
keeps this site and its author alive.
Thank you.
Author Eric R. Ashley writes at Amazon:
A quick, graceful, and clear read. It is helpful as it explains things that many don't understand that well. It helped me, and I expect that it will continue to do so as I try to think back on what I read.

Read it in one sitting.
Turning attention to the fundamentals of the gospel, this book shows that the way of salvation has always been by grace through faith from the beginning of time.
It is available from Amazon and other book publishers; more information can be found here and on the Amazon website.
Other books by the author:

The Essential Guide to Time Travel: Temporal Anomalies & Replacement Theory

Why I Believe

Faith and Gaming Revised and Expanded Edition

Faith and Gaming (Original Edition)

Game Ideas Unlimited

About the Fruit

What Does God Expect? A Gospel-based Approach to Christian Conduct

Verse Three, Chapter One: The First Multiverser Novel

Multiverser: The Referee's Rules

Multiverser: The First Book of Worlds

Multiverser: The Second Book of Worlds
Books by Author M. Joseph Young