Dimensionfold Publishing is excited to present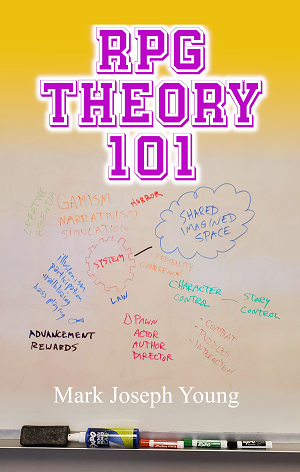 RPG Theory 101
and Other Essays in Role Playing Games
Since the final years of the last century, Multiverser co-creator Mark Joseph "M.J." Young has become recognized as one of the more respected writers about role playing games, design, play, and theory. His Game Ideas Unlimited series ran weekly for four years at Gaming Outpost in the early aughts, concurrently with his monthly Faith and Gaming series at the Christian Gamers Guild. Late in the teens he returned to the Christian Gamers Guild to write a monthly series, Faith in Play, continuing the vision of the latter series, and RPG-ology to continue that of the former. Between the two, though, he contributed many articles to many role playing sites, including Daedalus, The Way, the Truth, and the Dice, RPG-net, MysticAgesOnline, Wounds Unlimited, RoleplayingTips.com, and Places to Go, People to Be. Some of those sites have been lost to the past, but this book has recovered and collected a few of the best articles from the past two and a half decades, about game theory, legal systems, game design, horror, game play, and more.
It joins the growing collection of books from the author covering a vast array of topics related to gaming, and arguably is among the cream of the crop. The preface by former Places to Go, People to Be French edition editor-in-chief Regis Pannier speaks glowingly of each article chosen for inclusion.
More information can be found, including a list and description of the articles included, on this website, and it is available in paperback and Kindle formats from Amazon and other booksellers.
Young's previous books are listed here.
Your contribution via
Patreon
or
PayPal Me
keeps this site and its author alive.
Thank you.
Other books by the author:

RPG-ology Volume I

Faith in Play Volume I

Do You Trust Me?

The Essential Guide to Time Travel: Temporal Anomalies & Replacement Theory

Why I Believe

Faith and Gaming Revised and Expanded Edition

Faith and Gaming (Original Edition)

Game Ideas Unlimited

About the Fruit

What Does God Expect? A Gospel-based Approach to Christian Conduct

Verse Three, Chapter One: The First Multiverser Novel

Multiverser: The Referee's Rules

Multiverser: The First Book of Worlds

Multiverser: The Second Book of Worlds
Books by Author M. Joseph Young