RPG Theory 101
and
Other Essays on Role Playing Games

Mark Joseph Young
ISBN 978-1989940624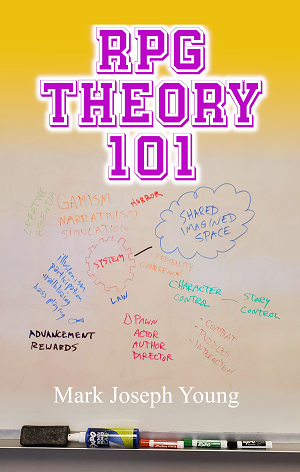 This book is in some ways a culmination of many threads, articles written and published for role playing sites around the web over two decades, now collected in this volume. After a foreword by Regis Pannier, former editor-in-chief of the Places to Go, People to Be (PTGPTB) French edition, the book contains fourteen articles on various aspects of the hobby:
Theory 101, the three-part exposition of role playing game theory as it developed at The Forge through the work of Ron Edwards, Vincent Baker, Mike Holmes, and others (including the author of these articles), offering System and the Shared Imagined Space, The Impossible Thing Before Breakfast, and Creative Agenda. PTGPTB editor wrote of this

I wasn't aware of this series at the time….I ran games instinctively, not asking myself many questions. My games weren't awful, but something was missing. I knew only the practical side. Then I translated the three parts of Theory 101. I realized this was what I had been missing; the search of meaning in an RPG session, the scope of the narration. The notions of Shared Imaginary Space, Authority, Stance, Games Typology, Creative Agenda--have been staying with me until now.

His colleague Aigri-Man wrote

this introduction establishes a solid starting point. Because reading it makes you think about yourself, your gaming practice and the habits of the gamers around you.

It was originally published at Places to Go, People to Be, who requested the series from the author.


Applied Theory predates that, and is a discussion of how to apply concepts of creative agenda to game design. It originally appeared at The Forge.


Two Pronged EXP Rewards was a brief letter-to-the-editor at RoleplayingTips.com in response to someone's experience system tweak proposal which also relates to the question, what is it you are trying to accomplish to make the game more fun?


Law and Enforcement in Imaginary Realms is the earliest set of articles here, three parts addressing The Source of Law, The Course of Law, and The Force of Law, how to design and run the legal systems in fantasy, science fiction, and alternate history game world. Of this series, Regis Pannier writes

I fondly remember how the French translators eagerly translated the three parts...back in the 00s. How we found his approach original.

Not only is this work still a remarkable and accessible introduction to the legal domain, but it's also inspiring for scenarios and adventures.

It, too, originally appeared at Places to Go, People to Be.


I'm Not a Lawyer, But I Play One in a Game is also about law, and particularly provides a set of rules to create courtroom drama in a role playing game experience. It was inspired by discussions at The Forbe, but published originally by RPG-net.


Intuition and Surprise talks about what causes those intuitive moments in reality, and how that can help us make them feel more real in the game world. It, too, was originally published by RPG-net.


Re-educating the Power Gamer was originally written for Wounds Unlimited, but the people at RoleplayingTips.com liked it so much they asked permission to reproduce it there. It suggests ways to get players who are focused on strategy to become more involved in story and character.


Writing Horror was posted to the mark Joseph "young" web log, and picked up by the French edition of Places to Go, People to Be, as it gives advice on creating and running horror scenarios.


A Christian View of Horror was added to that web log when one of the author's patrons raised the question.


A Departing Member of the Christian Gamers Guild addresses concerns raised about role playing games by a Christian who had played them.
This collection of essays is obviously a must-read for every serious role playing game designer, writer, and referee. It is available through Amazon in both print and Kindle formats.
Books by Author M. Joseph Young