RPG-ology Volume I

Mark Joseph Young
ISBN 978-1989940600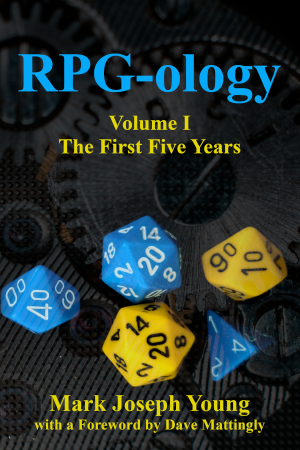 At the beginning of the century I began writing two series of articles, one as an expansion of my ministry as Chaplain of the Christian Gamers Guild, a monthly series entitled Faith and Gaming about the intersection of role playing and hobby games with Christian faith; the other, at a role playing game site called Gaming Outpost, entitled Game Ideas Unlimited, exploring ideas in role playing game theory, design, and play. Both ran for four years, terminated by technical trouble, and the first was released in book form--twice--and then re-released serialized online by the Christian Gamers Guild in the mid teens. At that point, webmaster Bryan Ray prevailed upon me to write more on the subject, and although I had some doubts about what I could write on a subject on which I had already penned half a hundred articles, I agreed.
Bryan's vision for the series, though, expanded beyond the original notion of the integration of our faith with our role playing games to include many of the issues and ideas which had been part of the parallel series at the other site. I was reluctant. I did think it reasonable for the new series to cover other leisure activities, but even from the series title--Faith in Play--it seemed obvious to me that it should always involve something to do with our faith, and while everything has to do with our faith, it is considerably less obvious in discussions of role playing game theory.
Thus I suggested that perhaps I should write two monthly series, the one a sequel to the original Faith and Gaming series and the other a consideration of other aspects, which I suggested we could call RPG-ology.
Five years and sixty monthly entries later, Dimensionfold Publishing put both series, with a few related articles, into book form. Faith in Play came out first--appropriately, since it debuted two weeks before its sister series and continues to be half a month ahead--but this volume followed on its heels, with a foreword by Dave Mattingly, long-time board member and vice president at the Christian Gamers Guild and former president of Blackwyrm Publishing, whose Blessed Words Books division had published that earlier Faith and Gaming Expanded Edition.
There were many significant articles on the Internet not included here, and a new book, RPG Theory 101 and Other Essays in Role Playing Games, is anticipated early next month. Meanwhile, the sixty-plus articles here should give any referee fodder for new game ideas and directions and designs.
It is available through Amazon in both print and Kindle formats. The series is still continuing, and as many of the Game Ideas Unlimited articles which were lost with the crash of the Gaming Outpost website are being recovered and reformatted for this series, we have every hope that in five years another sixty articles will be released as Volume II. I'm looking forward to it.
Books by Author M. Joseph Young