The Book
Temporal Anomalies in Time Travel Movies
unravels
Problems in Time
Time travel has been a staple in Science Fiction since H.G. Wells. Unfortunately, much of what passes for intelligence in this area is poorly considered.
Anomalies
For example, it is not possible to return to the past without changing the past in some way; nor is it possible

to change the future based on information from the future. Doctor Who realized early on that changes to history were hazardous, and avoided them assiduously.

Movies built on a time travel theme frequently become dissatisfying when the thread of time is closely examined. In Millennium, once the era in which the time machine exists is destroyed, aren't all of those rescued survivors returned to their own times? In The Twelve Monkeys, doesn't it appear that the disaster which the main character was to prevent
would not have happened had he not interfered? In Timecop, would any of that have happened had it not happened? Even the venerable
StarTrek
has created numerous anomalies which it has failed to resolve. Pasts which are dependent upon futures dependent upon those pasts should make us cringe. However, from time to time something works. This web page has long attempted to examine some of the best, worst, and other examples of these.
Movies
This section once listed and briefly described all the movies analyzed in the order in which they were analyzed. Maintaining that has become prohibitive. The full list, with links, is to the right.
It should be clarified concerning the movie analyses that they are not really in a random order, but the order is not always entirely consistent, either. The first analysis published was Terminator, the then-two-part Schwarzenegger thriller in a single page. On its heels we posted Back to the Future in three parts, and continued in very much the order you see on the list to the right. However, we received a letter from a reader and so included the addendum to Terminator, listing it with the original film, and when, sometime later, we added an analysis of Terminator 3: Judgment Day, we listed it with its predecessors. Thus the system has continued much on that order, that each new analysis was added at the bottom of the list unless it was a sequel to a previously analyzed film.
We did not always do it that way, but more recently decided that those sequels which were listed further down ought to be moved up with their prequels.
There is some logic to this methodology, and it works in both directions. On the one hand, many points that were fundamental to understanding what was eventually named Replacement Theory were first presented in the earlier movies, and even later as new significant points were recognized they would first appear in newly posted film analyses. That meant analyses of later films were assuming that you had read the analyses of earlier films, and you would need to know which ones were the earlier films. We made an effort to link from the later films to the earlier films, citing the previous explanations, but it still helps to have read the early material first.
On the other hand, the more of these we did the more details we noticed. Early analyses did not often address whether a film worked under a theory other than replacement theory (fixed time or multiple dimension), as the point was to present how replacement theory resolved those films. The genetic problem was not discussed for quite a few years. Similarly, problems with recall devices, solutions to predestination paradoxes--a lot of the theory stuff--appears later. We were learning while we were writing.
Of the early materials, all were written exclusively by me (although sometimes I bounced ideas off of others, most commonly Kyler C. B. Young, who is perhaps the best analyst I know in this subject, sometimes others) except for Final Countdown, which was done by John "A1Nut" Cross, who had been one of the most dedicated readers of the site and asked many questions. I did take something of an editorial/oversight position on that, raising issues I was not sure he had addressed adequately and helping get it in shape for publication, but the work, and its solutions, is his.
It should also be noted that beginning with Primer, that is, immediately after Deja Vu, there was a format change. Up to that time, all analyses were done as single articles, some very long; Primer was the first analysis written to be published at The Examiner. Because of that site's emphasis on many shorter articles, our analyses were serialized, and from that point up through Project Almanac the "sections" of the present web pages were, with some edits, the original articles as they appeared there. That makes them somewhat more independent, although some of the "last time we wrote" material has been excised in many cases. Terminator Genisys was being analyzed at the time of the transition back to this site, so it retains some of the formatting of that approach.
There is also a page of other films, movies of which I am aware are time travel films but were not treated here for a long time, some of which are now analyzed, others which might be, and others which probably will not be. Preliminary comments on each are given. I attempt to update it, adding films as I become aware of them and removing them as pages are created for them, but some films will probably stay on that list for quite some time.
Time Travel Theory
A picture is worth a thousand words...
Temporal Anomalies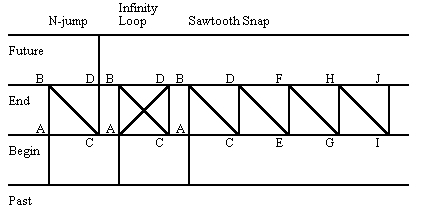 Image drawn from Appendix 11: Temporal Anomalies,
in Multiverser: Referee's Rules from Valdron Inc,
Used by permission.
For information about Multiverser write to Referee@MJYoung.net
or visit the web sites.
The section Discussing Time Travel Theory has been greatly expanded thanks to our work at The Examiner. The old articles are still here (and are still worth reading and often cited in our analyses), but during our tenure at the other site we were called upon to do a "Theory 101" series. This was followed by answers to questions and a "Theory 102" series addressing some of the same and some new issues. You will find everything here from what happens if you kill your grandfather to the Novikov Self-consistency Principle, Schrödinger's Cat, and the Butterfly Effect. Nearly all of these are items that have arisen frequently in letters. All the web pages are linked in the column to the right at the top of this page, the section on theory appearing below the list of movies analyzed.
Again, all the articles in the theory section are written by me except one, A Critique of the Spreadsheet Theory by Sergiy Koshkin, which I agreed to post to my site at the time. Sergiy wrote another response, which was published at Gaming Outpost, a site which quite sadly is no longer available.
I still answer letters, at MJYoung@MJYoung.Net, although I should caveat that I have become notoriously bad at checking my e-mail. I do answer everything when I get to it, but I often get to it only once or twice a month. It is fastest to reach me through my Facebook account, and I have other social network site presences linked from the M. J. Young Net home page.
For what it's worth, material on this site has been recommended reading in college courses on metaphysics, and I have been consulted on a number of scripts for various time travel productions. I'll let you know when any of them are produced.
I should also say what I find myself explaining to people: I am a proponent of Replacement Theory, and my work here is primary aimed at showing how it works and why it is the best theory of time for resolving time travel issues yet devised. I understand Fixed Time Theory and various forms of Multiple Dimension Theory, all of which are presented and discussed in the theory section and sometimes referenced in the movies and other pages. Don't confuse me for an impartial source, though: I have examined the theories and come to a conclusion, and my analyses of movies are primarily asking how the events would work under Replacement Theory, not what theory the authors are trying to use (although I do consider that in most cases, particularly in later analyses).
Other Pages
Several other pages of interest appear on the site, worth your attention.
There is a section of correspondence, renamed communication and including in addition to a few of the many letters written about pages on this site some materials that appeared on other web sites, all with answers from me. You will find those indexed in that right hand menu column above.
A collection of miscellaneous pages arose while I was writing for The Examiner. These included time travel movie news items, anticipated release dates of films, and other rather "dated" materials, but also included a few "best of" articles in which I attempted to identify time travel movies I thought were worth watching for various reasons. That, too, is indexed in that column.
The Perpetual Barbecue is a short story by the author of this site, originally published in the defunct RPG Review, in which time travel causes a day to repeat itself, for better and for worse.
There was a guestbook which you are invited to read; regretably, Yahoo! discontinued support for signing these when they bought GeoCities (one of many reasons we are no longer at GeoCities)--but you get a faster response from me if you use e-mail anyway.
And if you're wondering who wrote this stuff, there is a page about the author with a bit of information and some links.
Off Site
For a long time there were articles and interactions on other web sites. Most of those are now gone, and are missed. Chuck Buckley had posed some time travel problems, and answers were provided based on the time travel theories found here. His side of the consersation is lost, but my answers are still posted on this site, here, here, here, and here. Mr. Buckley also had a collection of time travel links, also gone.
The theory article posted here as Toward Two Dimensional Time was originally published at Gaming Outpost under the title A Draft: Toward Two-Dimenensional Time, and there was some discussion there. Mr. Sergei Koshkin, who contributed to this site A Critique of the Spreadsheet Theory by Sergei Koshkin, also posted a second article there under the title A critique of the replacement theory of time travel, to which I responded in the discussion area there. Unfortunately, Gaming Outpost is gone; we have some weak hope of obtaining materials that were once published there, but it is weak.